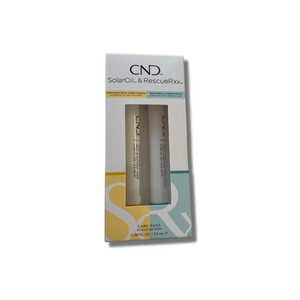 CND Solar Oil/Rescue Rxx Duo Pack
Regular price £16.95 £16.95 Sale
Are you nails needing some TLC?
Our CND Rescue RXX and Solar Oil Care Pens work perfectly together and are a perfect add on to your Manicures!
Rescue RXX Pen
Efficiently repair your nails with CND™ essentials RescueRXX™, this pen aids weak and damaged nails to produce flawless results with every application. Being a keratin-based treatment, adding protein to the nails, this product also contains Jojoba oil that penetrates surfaces and improves the condition of the nail plate and surrounding skin to deliver the moisturizing benefits. Product guarantees to dramatically reduce nail peeling and the appearance of white spots. Containing sweet almond oil which works to moisturise and soften the skin, leaving beautiful stronger nails.
Solar Oil Pen

No manicure is complete without CND™ SolarOil™. Labelled as the miracle manicure in a bottle, contains a rejuvenating blend of Jojoba, rice bran and sweet almond oils infused with the power of Vitamin E. It will penetrate deeply into the skin and cuticles and hydrate whilst helping your Polished Manicures glow and can prevent polished nails from chipping. It also keeps nails and coatings flexible and durable. Using over time helps nails from becoming brittle and promotes healthy nail growth.
 This product is vegan friendly.
To use: Handy and easy to use, pen form. Just click the top to release the formula, swipe the brush over your nails, throw it in your bag and you're ready to go. Use twice a day, AM/PM.