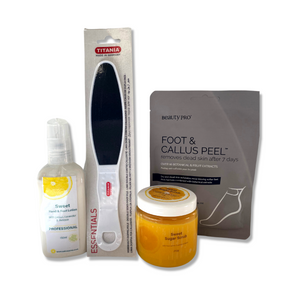 Pedicure Foot Pack 2
Regular price £33.00 £33.00 Sale
The full essentials for you to carry out a DIY luxury Pedicure on yourself. Help restore your feet with these booties and feet essentials. 
With over 16 botanical and fruit extracts, this effective treatment bootie removes dead skin within 7 days, whilst instantly hydrating and softening the feet for a smooth, healthy finish. This luxurious foot treatment is ideal for use prior to holidays and special occasions and will ensure feet are left beautifully soft. Complete with hydrating and anti-bacterial properties, this high-quality foot treatment adds essential nourishment to feet.

Combined with our Sweet Foot & Hand Scrub and Luxury Foot & Hand Moisturiser, it will leave your skin feeling soft and rejuvenated. Relax in the natural aromatherapy scents such as Lemon, Lavender and Benzoin. Lemon for skin cleansing and freshness, Lavender for its healing properties and Benzoin to tackle dry chapped skin. The kit also includes German Foot Rasp, helping buff away any dead dry skin.
Please note for booties: As a precautionary measure, we do not recommend that diabetic or pregnant clients use this product or if you have any open skin. Do NOT use any other products on feet for 7 days after treatment. (Do not any of these products included in kit for 7 days after using booties - all info noted on the back of pack).
Pack contains 1 bootie. Leave on feet for 90 minutes. 
Why not combine with our nail essentials such as files etc or our Vinylux polish packs.
Includes;
German Foot Rasp
Scrub
Lotion
Foot & Callus Peel