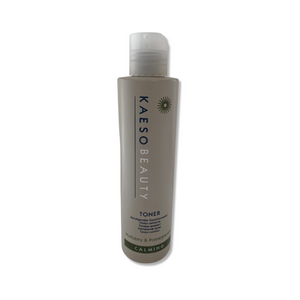 Kaeso Toner
Regular price £15.00 £15.00 Sale
Hydrating
Enhance your skin with the Kaeso hydrating toner that effectively removes everyday grime and make-up, guaranteeing flawless looking skin with every use. The hydrating range is for normal to dry skin.
Hydrating facial toner helps to revive and condition the skin. Cotton extract hydrates while balm mint and acerola provide antioxidant properties which help to slow down skin ageing. Suitable for everyday use, the skin will be left looking and feeling revived.
Rebalancing
Restore the balance of an oily complexion for your skin with the Kaeso rebalancing toner that is guaranteed to promote flawless results with every use. The Toner is specifically formulated for oily/combination skin, removing all traces of make-up and daily impurities, whilst moisturising and softening skin, with mallow and cucumber ingredients. Witch hazel helps refine pores and reduce oiliness.
Skin is left feeling clarified, soft and rejuvenated.
Calming
Kaeso calming toner is part of the calming range for sensitive skin that gently removes all traces of make-up and daily impurities. Without causing irritation, toner will clarify your omplexion, gently soothing skin with extracts of mulberry and pomegranate. 
Leaves skin looking fresh, supple and energised.
Use daily for best results. Apply to face and neck with fingertips using a circular motion. Remove with a damp sponge, or cotton pads or a hot face cloth. Moisturise afterwards or carry out full facial routine. 
All Kaeso products are animal friendly! As well as being free from parabens, sulphates, propylene, glycol and mineral oil.