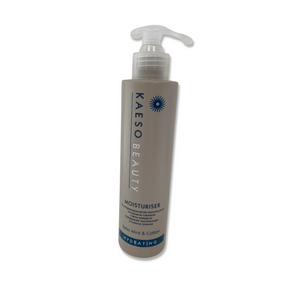 Kaeso Moisturiser
Regular price £16.00 £16.00 Sale
Hydrating
Kaeso hydrating moisturiser is a non greasy formula, guaranteed to leave skin feeling soft and looking flawless. Perfect for normal to dry skin, this hydrating facial moisturiser is formulated to restore moisture and boost the complexion of skin. 
Natural antioxidant balm mint is a feature of this moisteriser, with cotton renowned for its hydrating properties. Formula works all day to nourish and hydrate the skin.
Rebalancing
Kaeso's unique rebalancing moisturiser formulation is made with the finest, natural ingredients to assure the highest quality skin care. The rebalancing moisturiser is a lightweight and easily absorbed cream, which is non greasy and was expertly designed to balance skin moisture levels and control excess oil. Skin is left looking bright, revitalised and shine free. The rebalancing range was specifically formulated for oily/combination skin.
Willow bark with its anti-bacterial properties is used to fight skin impurities, witch hazel furthers this. Mallow helps to lock in moisture, especially around the sensitive eye area and cucumber was included for its renowned moisturising, detoxifying and softening properties whilst Vitamin E helps to protect skin against the environment.
Calming
Leave skin feeling nourished and rehydrated with the Kaeso calming moisturiser with a lightweight formula to help protect skin against the environment. This moisturiser is specifically for clients with sensitive skin.
Rejuvenates sensitive skin, with extracts of mulberry and pomegranate.


Use daily for best results. Apply after cleansing and toning, to face and neck with fingertips gently massaging skin in an upwards firm motion. Can be finished with Kaeso Facial Mist.
All Kaeso products are animal friendly! As well as being free from parabens, sulphates, propylene, glycol and mineral oil.
195ml