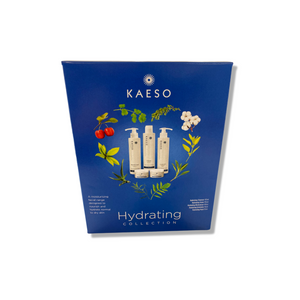 Kaeso Facial Kit
Regular price £40.00 £40.00 Sale
Hydrating
Restore the moisture of your skin with Kaeso's hydrating facial kit, a great addition to your professional skincare supplies. Suitable for clients with normal to dry skin. Complete with a facial mask to restore and rebalance the skin, an exfoliator to remove dead skin cells and refresh the skin and a cleanser and toner to clean and revive, this fabulous kit will ensure your skin is left with a hydrated, radiant skin finish. Finish off your facial with the included hydrating moisturiser, a high-quality formula that restores moisture and boosts the complexion to ensure a healthy, perfected skin finish. 
Contains; Aloe Vera, Cotton & Balm Mint.
Rebalancing 
A great addition to your skincare, Kaeso's rebalancing facial kit will allow you to perform a fabulous facial, for combination to oily skin. Formulated to reduce excess oil and remove impurities from the skin, this comprehensive kit will ensure your skin is left with a rejuvenated, rebalanced skin finish. Complete with a high-quality facial mask, a micro bead exfoliator and a cleanser and toner to ensure a refreshed skin finish, this kit will allow you to create beautiful refreshed skin. Finish off your facial service with the rebalancing moisturiser, a lightweight formula that absorbs easily into the skin, while controlling excess oil and moisture.
Contains; Cucumber, Mallow, Willow Bark, Witch Hazel & Coconut Oil.
Calming
The Kaeso calming facial kit is perfect for providing a nice calming relaxing facial. Provide yourself with an amazing facial treatment suited to those with sensitive, delicate skin types. Each product is formulated to prevent irritation. This comprehensive kit aims to purify, exfoliate, cleanse, tone and moisturise your sensitive skin. It's a must-have for skin rejuvenation, removing impurities and nourishing your skin. It's a must have kit for your spa for when the girls head out on a pamper weekend.
Contains; Mulberry, Pomegranate, White Nettle, Chamomile.
These comprehensive kits will allow you to perform a relaxing, rejuvenating facial all in one sitting! Can be used daily.
Kits contain;
Kaeso mask 95ml
Kaeso exfoliator 95ml
Kaeso cleanser 195ml
Kaeso toner 195ml
Kaeso moisturiser 195ml
All Kaeso products are animal friendly! As well as being free from parabens, sulphates, propylene, glycol and mineral oil.