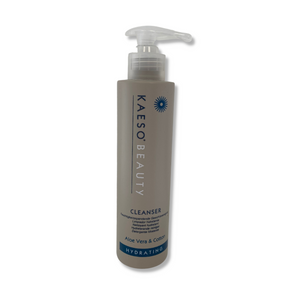 Kaeso Cleanser
Regular price £15.00 £15.00 Sale
Hydrating
The hydrating range is for normal to dry skin and guarantees flawless results with every application. Hydrating facial cleanser effectively removes everyday grime and make-up.
Benefiting from extracts of cotton and aloe vera to moisturize. This formula will cleanse without drying the skin and leave it feeling soft and hydrated.
Skin is left looking hydrated and feeling nourished 
Rebalancing
The Kaeso rebalancing cleanser is specifically formulated for oily/combination skin. Gently removes everyday grime and make up, whilst also moisturising and softening the skin due to extracts of mallow and cucumber.
Oiliness is reduced and pores refined with added witch hazel ingredient.
Skin is left feeling soft, supple and shine free.
Calming
A calming range for sensitive skin. Enhancing the skin with a mild formula that gently removes make-up and daily impurities.
Contains the antioxidant vitamin E that helps protect skin against the environment. Mulberry ingredient soothes and moisturizes skin, leaving flawless results with every application. Pomegranate greatly benefits skin, providing protection against UV damage caused by free radicals.
Skin is left looking and feeling refreshed and energised.
Use daily for best results. Apply to face and neck with fingertips using a circular motion. Remove with a damp sponge, or cotton pads or a hot face cloth. Moisturise afterwards or carry out full facial routine.
All Kaeso products are animal friendly! As well as being free from parabens, sulphates, propylene, glycol and mineral oil.
195ml