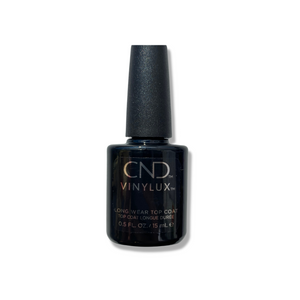 CND Vinylux Original Top Coat
Regular price £11.95 £11.95 Sale
Watch our Vinylux application tutorial video here.
Vinylux™ weekly top coat, a great finish to your manicure. This non-yellowing formula ensures a vibrant nail finish and adds ultimate strength and durability to your client's nails, ensuring you can enjoy your manicure for up to 5 days of gorgeous wear. As well as durability that is increased with exposure to natural light, this revolutionary top coat also provides a gloss like finish, ensuring a professional nail look. A speedy 8 ½ minute drying time, offering you the freedom to immediately embrace their day with perfect manicures and pedicures.
Requiring no Base Coat which means a faster and easier application time and removal with just ordinary nail polish remover.
Original/Gel effect top coat difference - Gel effect is a newer top coat, ideal for manicures as it is more hard wearing and can last longer, can last over the 5 day mark. Original is ideal if you do not want your polish to last any more than 5 days and ideal for pedicures.  
Be sure to add your Vinylux Polish. See our Nail Packs.