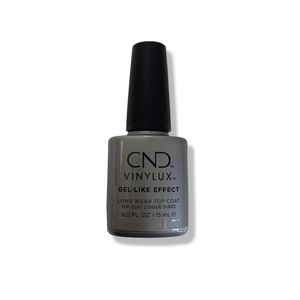 CND Vinylux Gel-like Effect Top Coat
Regular price £14.95 £14.95 Sale
Watch our Vinylux application tutorial video here.
The New Vinylux™ Weekly polish and Weekly top coat is a system that is uniquely formulated to work perfectly together for the ultimate Gel alternative nail pairing. Requiring no Base Coat which means a faster and easier application time.
Strong, tough, long-wearing and super shiny, the Vinylux "Gel-Like" Effect Top Coat is every nail technician's latest saviour in nail polish technology. Providing gel-like shine and thickness, the brand-new top coat lasts up to seven days, meaning you can enjoy their gel-effect nail colour, without having to commit to a professional removal, as removal is just with ordinary nail polish remover.

CND™ polish is formulated to last up to four times longer than traditional nail polishes. Dries naturally – giving the polish a flawless finish, and strengthens its resistance to chipping, speedy 8 ½ minute drying time, offering clients the freedom to immediately embrace their day with perfect manicures and pedicures.
Rated the best top coat polish!
Original/Gel effect top coat difference - Gel effect is a newer top coat, ideal for manicures as it is more hard wearing and can last longer, can last over the 5 day mark. Original is ideal if you do not want your polish to last any more than 5 days and ideal for pedicures.