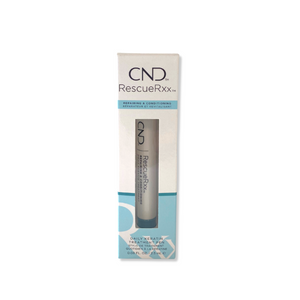 CND Rescue RXX Pen
Regular price £10.95 £10.95 Sale
Efficiently repair your nails with CND™ essentials RescueRXX™, this pen aids weak and damaged nails to produce flawless results with every application. Being a keratin-based treatment, adding protein to the nails, this product also contains Jojoba oil that penetrates surfaces and improves the condition of the nail plate and surrounding skin to deliver the moisturizing benefits. Product guarantees to dramatically reduce nail peeling and the appearance of white spots. Containing sweet almond oil which works to moisturise and soften the skin, leaving beautiful nails.
A great add on to your manicures!
To use: Handy and easy to use, pen form. Just click the top to release the formula, swipe the brush over your nails, throw it in your bag and you're ready to go. Use twice a day, AM/PM.