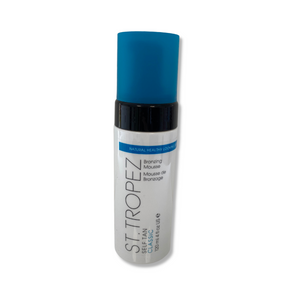 St Tropez Classic Mousse
Regular price £21.00 £21.00 Sale
St.Tropez's classic bronzing mousse provides skin with a radiant, golden tan, perfect for special occasions or an everyday glow. This lightweight mousse enables easy, even application and is ultra-hydrating for up to 24 hours and ensures a healthy, long-lasting tan and an even fade. 
St Tropez works with the melanin in your skin therefore providing a nice even natural glow, depending on skin types. No orange tones at all with St Tropez.
This fabulous mousse ensures easy, streak-free application and will cater to every skin tone and type. With a quick-drying, comfortable formulation, the classic mousse is great for any clients requiring a nice classic glow and will also leave skin feeling soft and smooth after use.
Ideal for brides, clients who have never tried tanning products before and would like a natural glow. Leave on over night. Allow 8 hour drying time.
For the best results be sure to apply with the St.Tropez luxe velvet tanning mitt, they're a perfect match!
All St Tropez tan is Vegan Friendly.
120ml